CBG hosts 10th iBOL Science Committee meeting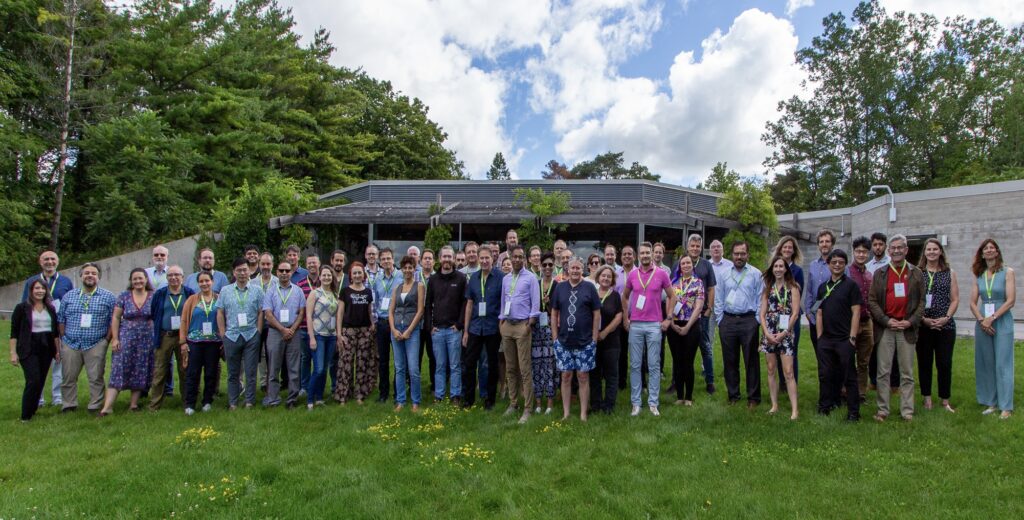 'Bringing science to society' a major focus for iBOL Consortium discussions at August meeting
This August, the Centre for Biodiversity Genomics hosted a jam-packed meeting for the International Barcode of Life (iBOL) Consortium's Science Committee. Delegates agreed that there was an urgency to their discussions and group strategizing as species loss continues at a harrowing rate.
The Science Committee's 10th meeting was the first in-person gathering since 2019, when iBOL launched the BIOSCAN research program in Norway. BIOSCAN is nearly mid-way through its mission to document all multicellular life on the planet.
Representatives from more than 20 institutions worldwide, including The Smithsonian, Naturalis Biodiversity Centre, the Natural History Museums in London and Paris, Chulalongkorn University in Bangkok, Canada Foundation for Innovation, Accenture, WUSC (World University Service Canada), and the Government of Canada, attended, among others. Delegates shared the latest research, discussed economic and political challenges within their home countries, and strategized on bringing DNA barcode data to society and how the consortium's work can support the new Global Biodiversity Framework.
Dr. Alan Wildeman, CBG's Board Chair, welcomed delegates to Guelph.  He shared that in July 2007, the first CBG building was erected to support the development of DNA barcoding – a new technology at the time – while he was serving as U of G's vice president (research).  He noted that he felt he was standing on the deck of the HMS Beagle.  He said that iBOL's mission rivals Charles Darwin's voyage and that the number of species described by DNA barcodes in a few short decades will soon surpass Linnean taxonomic descriptions of the past 250 years.
"We are still on the deck of the Beagle, and it's just about to leave the harbour on a broader mission. By 2045, we're going to have a DNA footprint of all the species on the planet," said Wildeman.
Prof. Paul Hebert, iBOL's CEO and the 'father' of DNA barcoding, spoke about the latest technological advancements – from handheld DNA sequencers to the application of ML and AI that will support biodiversity monitoring and analysis in remote biodiversity hotspots and communities worldwide. He also shared his vision for the iBOL Consortium after completing BIOSCAN and emphasized that DNA barcoding data must be integrated with public policy.
Researchers such as Prof. Manuel Elías-Gutiérrez from El Colegio de la Frontera Sur (ECOSUR) in the Yucatan Peninsula, Mexico, spoke about the devastating effects of political and economic stressors on their ability to do science. Consortium members listened intently as Elías-Gutiérrez showed photos of dilapidated infrastructure in his home laboratory and spoke about how he has had to work around these limitations to continue to produce scientific research for his country and iBOL.
Dr. Adriana Radulovici, executive secretary for GEOBON, was also in attendance. "We are embarking on a great mission. We can make a huge impact. The scientific and technological developments are amazing, but we need to make a bigger effort to bring stakeholders into the discussion," she said.
Radulovici is a marine biologist with expertise in capacity-building and knowledge mobilization, having worked as a research scientist at the CBG and in an administrative role at the Secretariat for the Convention on Biological Diversity. She will join iBOL as its new executive secretary later this year and will work to reinforce iBOL's strategic direction and governance structure and raise funds to sustain the organization.
Presentations throughout the week fell under themes of consortium development, prospects and projects, data and analysis, BIOSCAN's research themes, and special topics spanning the intersection of science with policy, social science, and business.
In the closing discussion, delegates agreed that the meeting was an essential first step towards energizing iBOL activities and positioning the organization to address the needs of science and society as humanity grapples with how to protect life on the planet.
iBOL's next conference will take place in Brazil, organized by Dr. Guilherme Oliveira's team at the Vale Institute of Technology in Belém with support from the iBOL Secretariat.
For more information and updates on iBOL activities, please visit iBOL.org or follow iBOL on social media @iBOLConsortium.