Meet Arctic BIOSCAN's 2022 Field Technicians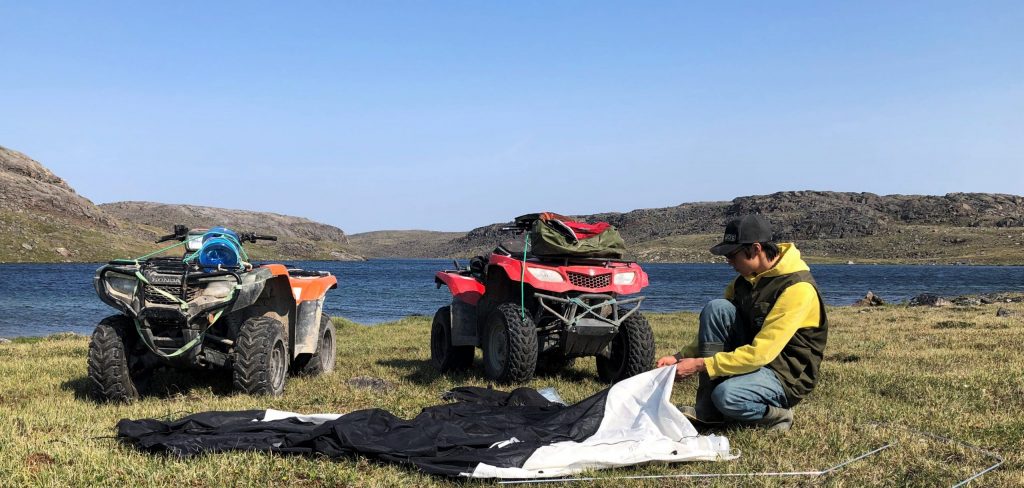 This year's Arctic BIOSCAN biodiversity monitoring activities expanded outside Cambridge Bay and Kugluktuk to include Kugaaruk, Gjoa Haven, and Taloyoak.
The expansion was made possible by continuing support from Polar Knowledge Canada and new funding from the SOI Foundation's Blue Futures Pathway program, which together enabled Arctic BIOSCAN's coordinating team to hire a group of field technicians in four communities across Nunavut. These Nunavummiut youth have brought new energy and local knowledge to Arctic BIOSCAN's work, and it has been exciting to have them on board this field season!
For three seasons now (in 2019, 2021 and 2022), Arctic BIOSCAN field technicians have had an opportunity to investigate the land's insect residents in ways they might not have anticipated. Working closely with Arctic BIOSCAN's research team, field techs collect insects and other arthropods using several methods, including Malaise traps, pan traps, sweep nets, aspirators, and freehand collections in terrestrial, freshwater and marine environments. They sort and label their samples, then prepare them for shipment to Guelph, where they will be DNA barcoded at the Centre for Biodiversity Genomics (CBG). The field technicians have also led the upload of observations on the platform SIKU (Indigenous Knowledge Social Network), for improved regional accessibility and usage of Arctic BIOSCAN's biodiversity data.
Carter Lear has been with Arctic BIOSCAN for all three of these seasons. Having grown up in Cambridge Bay, he was drawn to Arctic BIOSCAN in 2019 at a community event where he saw an opportunity to "work with and on the land" in his home territory and explore the world of insects, which has always interested him. Carter joined Elise Imbeau of Viventem and Kristen McCabe of the CBG on a three-week intensive sampling trip to Gjoa Haven, Kugaaruk, and Taloyoak in July 2022, where he could cross paths with his colleagues, Kumau Qavvik in Kugaaruk, Michael Aqilriaq in Gjoa Haven and Tad Tulurialik in Taloyoak.
Kumau, who plans to study engineering when he finishes high school in Kugaaruk, describes his home community as a "beautiful landscape" with mountains and hills along the ocean shoreline. He learned of the field technician position from a high school teacher and was drawn to it because he loves being outdoors. Kumau recounts that he has been learning a lot about "insects and the environment" and that he was surprised to learn that different colours (of flowers and insect traps) attract different insects. He is fond of butterflies and moths because of their colorful patterns.
Michael calls his home of Gjoa Haven a "great place," noting its attraction to tourists because of its location in the Northwest Passage and its connection to European explorers, including Roald Amundsen and Sir John Franklin. (Franklin's ships from his ill-fated 1845 expedition were discovered in the Arctic waters there, thanks to Inuit oral tradition, in 2015.) Michael says he discovered Arctic BIOSCAN on social media while working at Kikitak Housing and has found it "fun and enjoyable" to catch and learn about insects. "The most surprising thing I learned is that bumblebees can bite!" he says. Like his fellow field technicians, he enjoys the outdoors and has looked forward every day to being outside where he can "just look at the scenery and work."
Arctic BIOSCAN has significantly benefitted from the work of these young people who know this vast landscape better than most who travel there to work. Fieldwork allows these youth to be where they feel connected and grounded while contributing to BIOSCAN, a major global biodiversity research program.
"Many of the things I have learned working with Arctic BIOSCAN are interesting to me," says Carter, "but the most interesting thing is probably the diversity of insects in the Arctic, how they all play their part in their ecosystems and even in our lives. I am looking forward to hearing about the results of this field season, and to know if we found anything different from the past year. I would love to make a career out of this someday."