Uruguayan researchers visit the CBG for training intensive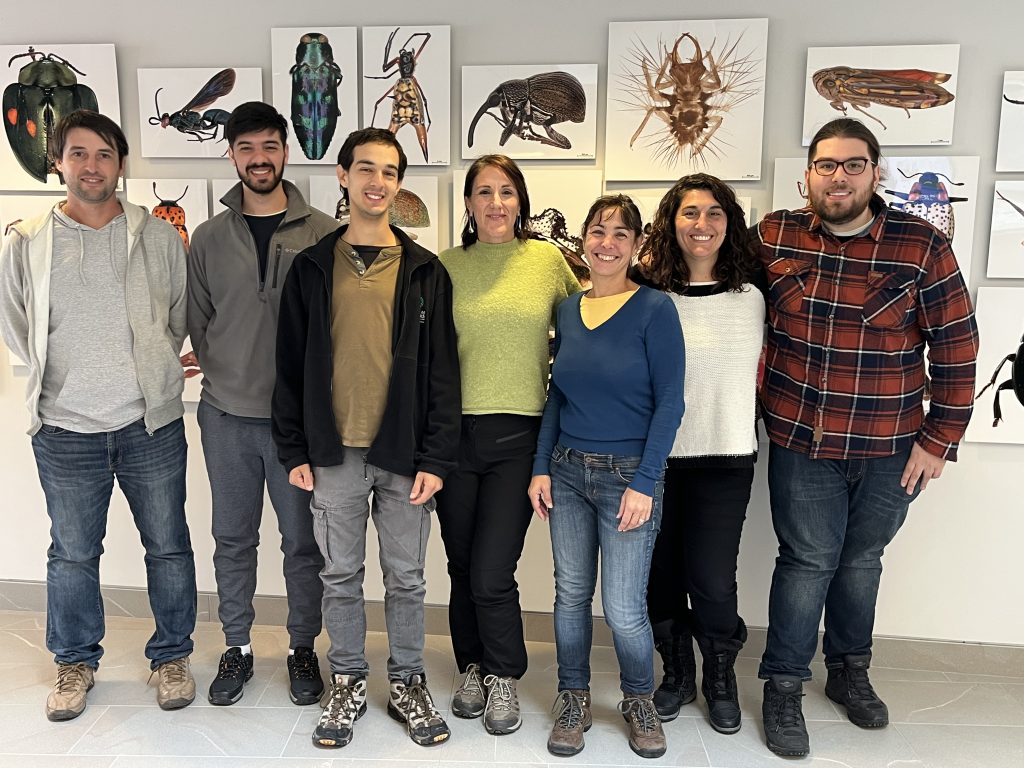 "We realize that we can do things that 15 days ago we had no idea we could do."
CBG Media & Communications
Seven scientists with various research interests spanning agricultural pests to spiders to nematodes spent two weeks at the Centre for Biodiversity Genomics (CBG) in March to learn about new technologies for biodiversity analysis from the Centre's experts.
Visiting researchers included: Mario Giambiasi, Renzo Vettorazzi, Ary Mailhos, Natalia Rigamonti, Laura Montesdeoca, Claudia Elizondo, and  Leandro Capurro.
"I was astounded by the leading-edge technology, the ingenious ways of solving problems, and the polished, high-efficiency of the work teams," said Renzo Vettorazzi, a Ph.D. student at the Institute of Hygiene-Facultad de Ciencias.
Dr. Dirk Steinke, associate director for CBG's Analytics Unit, developed a curriculum for the visitors that included a series of lectures, seminars, and many hands-on research exercises. The researchers were introduced to different aspects of DNA barcoding and metabarcoding using participants' specimens. They were able to experience a newly developed DNA barcoding workflow that is low-cost and requires minimal infrastructure.
Laura Montes de Oca from the Instituto de Investigaciones Biológicas Clemente Estable in Montevideo said she hopes to promote the creation of genetic libraries to enrich taxonomic work in Uruguay and encourage students and early career researchers to incorporate DNA barcoding tools into their taxonomic work to identify species and discover new ones.
The CBG's Sean Prosser, a research analyst in the Genomics Unit, shared his knowledge and expertise with the trainees, showing them workflows, from specimen to DNA extraction, to DNA sequence and finally uploading resulting barcode data to the CBG's BOLD data system. Robin Floyd, a research scientist in CBG's new Innovation Unit and Prosser have worked together to develop and refine workflows and protocols. 
"I would like to continue to upload new specimens – primarily from Uruguay to BOLD," said Montes de Oca, a postdoctoral researcher at Lincoln University in New Zealand, where she studies Mygalomorphae spiders from the Southern Hemisphere and their vulnerability to land perturbations.
Montes de Oca says she plans to share all the knowledge she gained at the CBG, including introducing her colleagues to the BOLD data system. She hopes to encourage them to upload their biodiversity data to BOLD to enhance barcode coverage from Uruguay.
"What surprised me most was the (CBG's) processing power," said Mario Giambiasi from the Agricultural Research Institute (INIA) in Uruguay.
The robotics used to photograph specimens to the novel equipment and protocols used to sequence more than a thousand samples from a single test tube are impressive, Giambiasi said. Giambiasi studies micropropagation of disease-free plants through in vitro culture, plant genetic improvement, and identifying insects in fruit trees, horticulture, forestry, and various crops.
"We realize that we can do things that 15 days ago we had no idea we could do," said Giambiasi.
He plans to upload Uruguayan biodiversity data to BOLD and would like to incorporate metabarcoding technologies into his work.